STOLEN CAR
Kul med så mycket fin respons på "Catcher in the rye"!
Det har blivit lite fördröjningar dock, meningen var att låten skulle vara ute på spotify vid det här laget, men den kommer ut så snart som möjligt :) Låten finns dock att köpa både på iTunes och cdbaby och via min facebooksite: 
http://www.facebook.com/EMMiEMUSIC
Just nu har jag skrivit klart två nya låtar, ska snart in i studion för att spela in "Stolen Car", är taggad till tusen!
Tills vidare kan ni ju alltid kika på min
video
;)
See ya soon!
Puss <3
/EMMiE
---
Besöksräknare
Idag:
Veckan:
Månaden:
Totalt: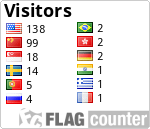 Free counters
Kommentarer
Kan bara säga att jag absolut gillar "Catcher in the rye" även om det inte alls är min typ av musik egentligen och ser fram emot att få höra mer. När jag är klar med Metal Munchers vill jag absolut ha med dig i nästa bok... Tror du att du skulle kunna skriva ihop en kort presentation av dig? Då lägger jag upp den och videon i min blogg... Have a rocking great day...
Hi Emmie,



Just in case we didn't already contact you... What are you currently doing to get bookings in

venues? That's what we do; artists hire us to promote them to venues in the U.S. We do it on a

state-by-state basis, so you can do gigs for a month or two in one state before moving on to the

next. We get the venues to the point of saying "We like the look of this artist, we like the sound

of this artist, and we want this artist to gig here; have them call us to set the time, day, and

amount of payment." You then contact them and accept.



We promote to every type of venue: Clubs, restaurants, theaters, coffee shops, etc. But of course

your campaign will be narrowed down to the type of venue best suited to you. I can send you some

details by email if you like... just let me know if this is a good email address and I'll get them

to you. Also, I'd love to get your physical CD or EP too if you have one; just mail it to the

address below. I need to have in my hands what the venues will have in their hands.



Musically Yours,



Scottie



Bryan Farrish Promotion

1828 Broadway, 2nd floor

Santa Monica, CA 90404

scottie@radio-media.com

www.radio-media.com



14 Years of Breaking New Music
Trackback